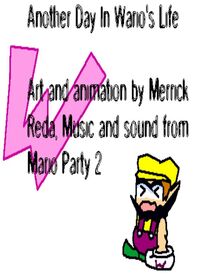 Doh I Missed is a short video parodying a sound clip that Wario says in the video game "Mario Party 2."
The video starts with a drawing that states who's art and animation this was from, as well as crediting Mario Party 2 for the music.
In a public bathroom, Wario heads over to a bathroom stall, where Luigi and Toad can also be seen near urinals. Shortly after punching the stall door open, he goes in to go to the bathroom, but ends up clogging up the toilet, as the water leaks through.
The video ends with Wario yelling his classic "Doh, I missed!" and the text saying "The End."
How could Wario clog up the toilet if there was no toilet inside the stall?
Wario is missing a 'W' on his hat.
There are three posters in this video

There is a pink wanted poster of Weegee that says "Have You Seen Me."
There is a poster that comes directly from "Punch Out!!" from the Wii that says "Got Milk Doc?"
Finally, there is fan art of Axel and Roxas from Kingdom Hearts, with Axel giving Roxas a piggyback ride.